Efforts under the environmental management system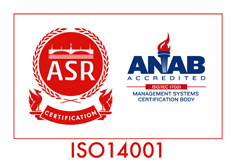 We contribute to society as a manufacturer of industrial magnetic heads and magnetic sensors.
We also regard contribution to the global environment as an important corporate mission. Therefore, we have created the system based on the guidelines of "ISO14001", the international standard concerning environmental management systems and have promoted global environment conservation and effective use of resources, reduction of environmental impact-causing waste and energy-saving activities.
As a result, our Nara Factory acquired certification, from the certification examination body TU¨V SU¨D Japan Ltd., as of March 18, 2002.
The Nara Factory is located at the foot of Mt. Nijyo, which has been cultivated as a place to live since old times, as shown by the Kitaimaichi ancient tomb and the Shimoda archaeological site.
By making further corporate efforts in the future, we will contribute to creating a livable society and environment.
The factory is located in the light-industrial district of Kashiba City and surrounded by housing.
The banks of the neighboring Sugaru River are a place for relaxation for citizens as cherry trees come into full bloom in spring.
Considering such environmental issues, we use electrical energy instead of petroleum energy for air-conditioning facilities within the factory.
The factory's main operations are manufacturing of industrial magnetic heads and magnetic sensors used for labor-saving devices for banks and rail station services.
Its production activities include assembly, polishing, inspection, packing of finished products and shipment.
Regarding environmental impact items in production activities, we make continual efforts for reducing electrical energy used for air conditioning and drying furnaces, as well as reducing and maintaining waste such as whetstones, polishing waste and filters generated in the polishing process.
We maintain the processing system in emergency to prevent environmental pollution. Moreover, we establish the system for complying with the RoHS directive.
To improve the items mentioned above, all employees make efforts jointly.
To that end, we set objectives and targets and formulate action plans, creating mechanisms for achieving our goals through regular reviews.
We comply with the relevant environmental laws and regulations and other requirements agreed to by our organization.
We document this policy and keep all employees and other people working for our organization informed about the policy and make efforts to promote and maintain the policy.
If the documented policy is required from outside, we will provide it upon request.